The last Adventure Mission in the Honkai: Star Rail quest line titled " Vessel of Mediocrity (Part 3) " concerns Cyrille, a child who was prepared to become the eighth Supreme Guardian of Belobog. You must put the shadow of her soul to rest in the final chapter of her terrible story. This article will guide you to complete objectives in vessel of mediocrity ( part 3)
Overview
| | |
| --- | --- |
| Mission Type | Adventure Mission |
| Location | Jarilo-VI , Everwinter Hill |
| Requirements | Trailblaze level 24 and Have completed the Jarilo-VI main story. |
| Client | Guardian Shadow |
Starting location
Make your way to the Silvermane Guard Restricted Zone area of Jarilo-VI to start part 3 of the "Vessel of Mediocrity" adventure mission. In the extreme southern portion of the Silvermane Guard Restricted Zone, speak with Dunn (NPC) to begin the task.
Speak with guardian Shadow
make your way to Everwinter Hill in the Belobog Overworld. Interacting with the guardian shadow will reveal that it is Cyrille. Then Cyrille will request your help once more in solving the Fool's Box puzzle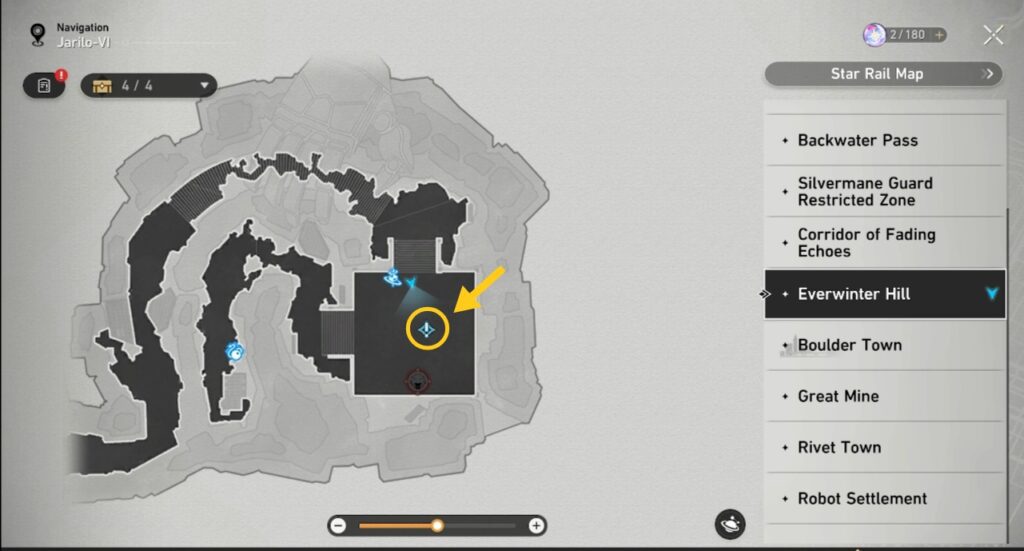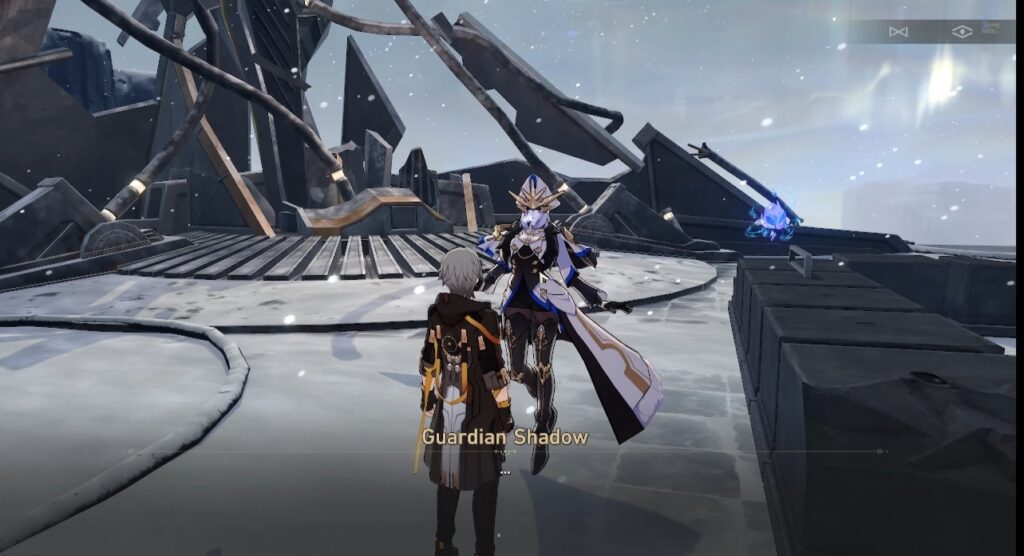 #1 puzzle solution
for 1st cyrille
Start the puzzle by pushing the leftmost box three times upward until it is up against the top of the grid.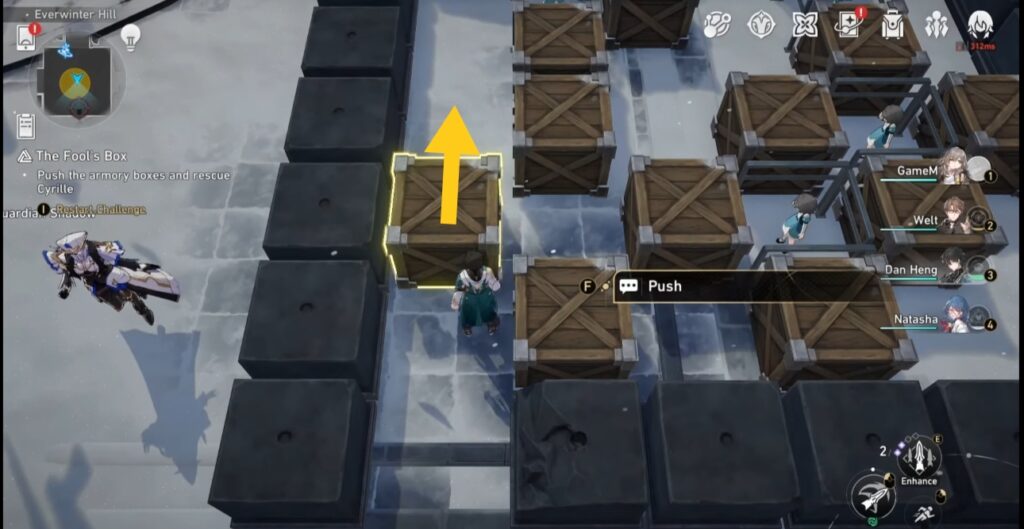 After that, move the box obstructing the 1st child on the left to the right once. Then rescue her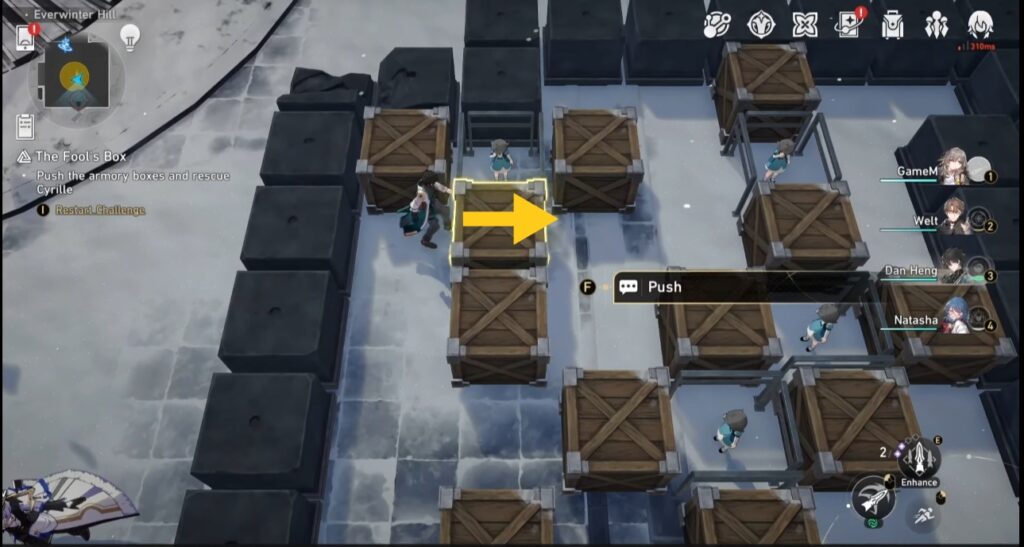 for 2nd cyrille
Push the box ( marked with red arrow in the below screenshot) right side once.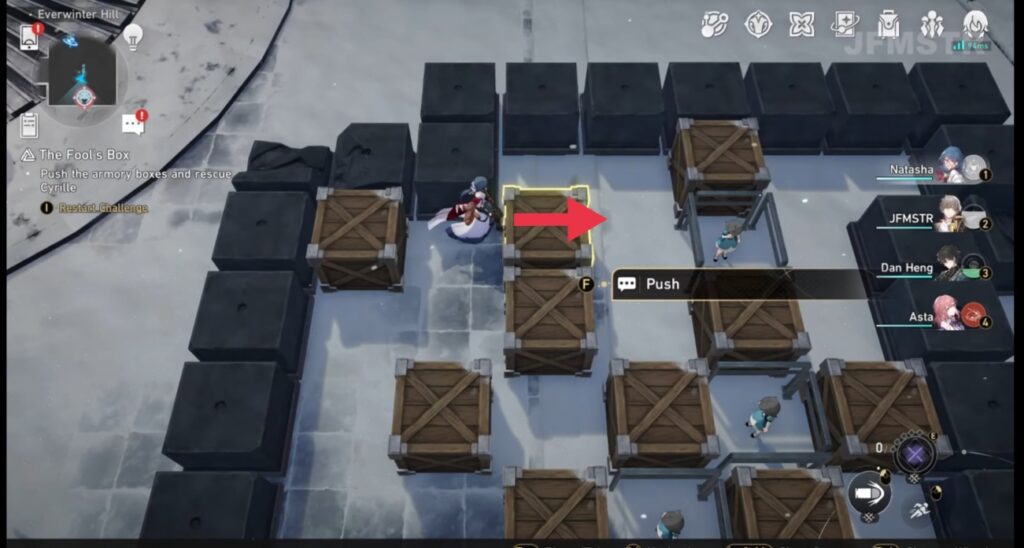 now push the boxes marked with yellow arrow down once and Rescue the 2nd child.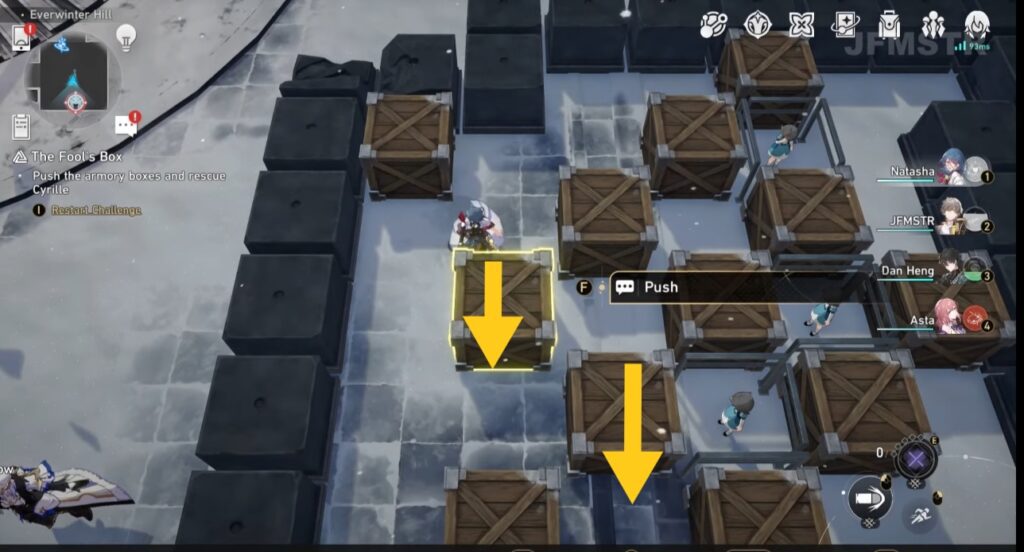 for 3rd cyrille
push the box ( marked with white arrow) upward once
then push the box with yellow arrow ( which is in front of 3rd cyrille ) down once. Then rescue the 3rd cyrille.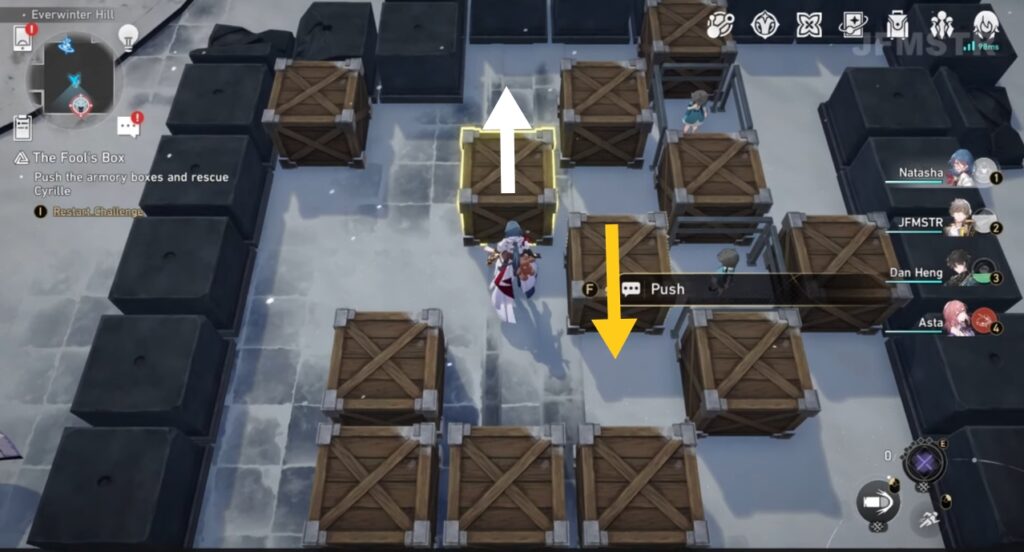 for 4th cyrille
now push the box ( which is in front of 4th cyrille) right once and rescue the cyrille.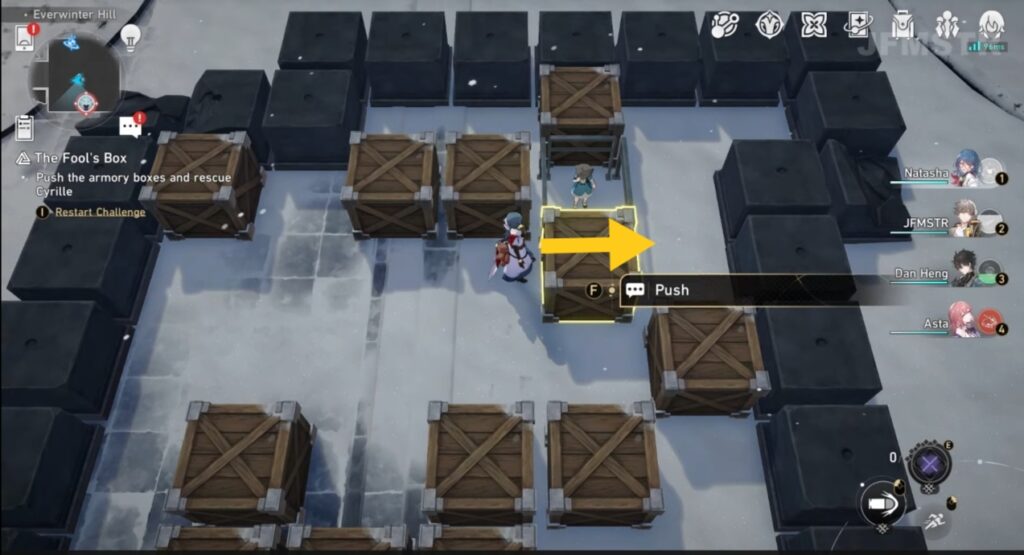 Collect the chest
For the Vessel of Mediocrity questline, completing every Fool's Box puzzle will award you with the achievement The Banality of Evil and 5 Stellar Jade.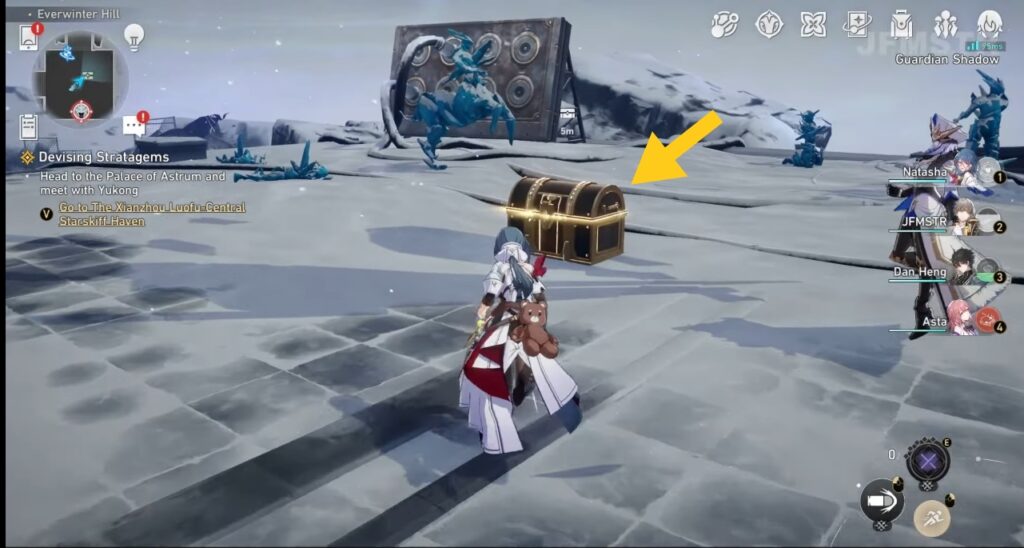 Defeat the Guardian Shadow
When you've finished the riddle, speak with Cyrille. She will ask you to grant her peace that lasts forever. After the discussion, a war will start. Defeat the Cyrille (Guardian Shadow) and her two Everwinter Shadewalker defenders.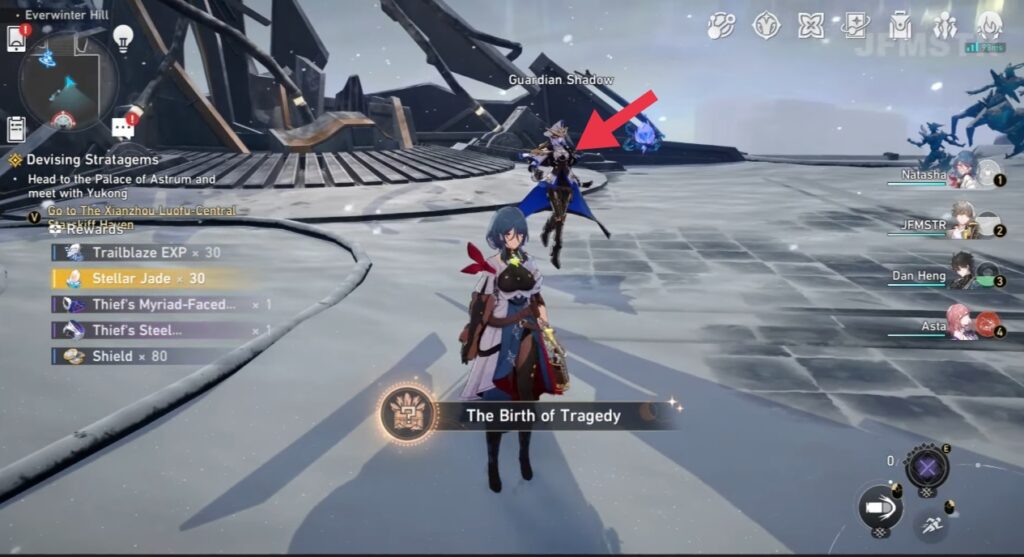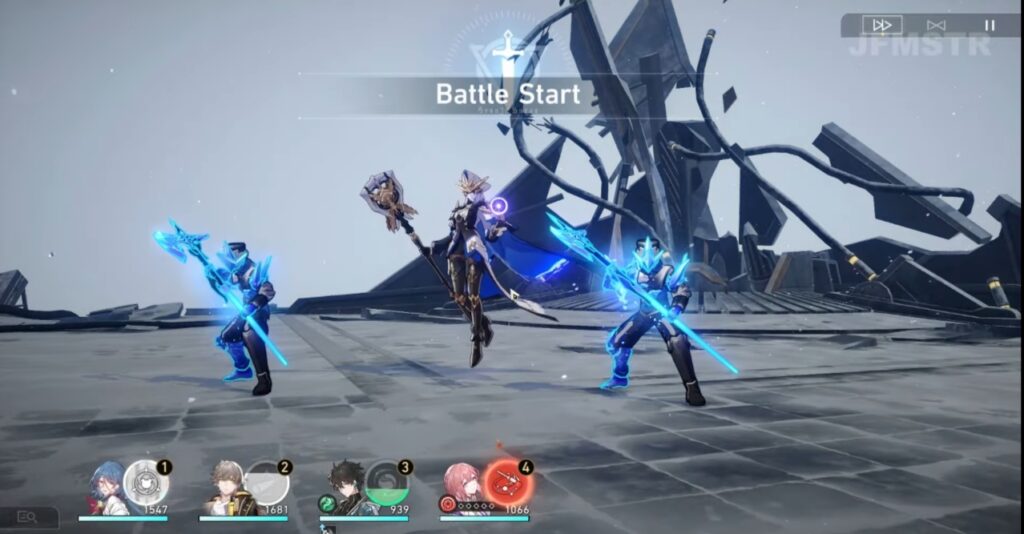 Go to the Overworld and find someone well-versed in history
Go to the Administrative District next, where Manya will be waiting in front of Serval's workshop. Interact with her and select the dialogue option, "Do you know the Supreme Guardian Cyrille?" Complete the conversation to receive a reading of Cyrille: Cyrille "The Fool," completing the series of adventure missions.