Wacky Wizards has released another update for Halloween 2022. This update comes with an exclusive, limited-time Halloween Pumpkin 2022 ingredient. In addition, this Halloween update has added some cemeteries, piles of sweet corn, and a fan-favorite pastime of treat or treat! This guide will assist you in locating a Halloween Pumpkin 2022 ingredient.
Also Read: Wacky Wizards all Potions
---
Wacky Wizards – Halloween Pumpkin 2022 Location
Unlike the majority of ingredients in Wacky Wizards, Halloween Pumpkin 2022 ingredient must be purchased with Candy and cannot be located on the map. So, to unlock the Halloween Pumpkin 2022 ingredient, you'll need to earn 1,800 Candy and purchase it from the Headed HorseMan.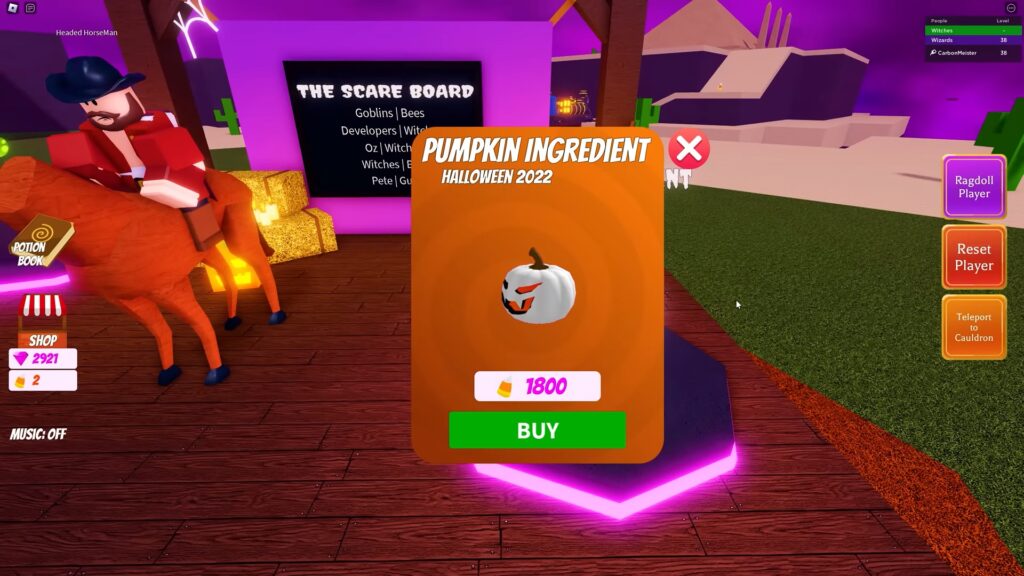 What is the easiest way to get candy in wacky wizards?
#1 Defeat Zombies
On the Wacky Wizards map, there are three cemeteries that you can enter to fight off zombies. Every time you kill a zombie, it will drop a small amount of candy.
#2 Search on the Map
Look out for giant floating candy corns as you run around the map. It respawns slowly and each of it worth 1 candy. But if you get on a candy-collecting streak, each piece of candy corn that you pick up will be worth more than the previous one.
#3 Scare the NPCs
NPCs can be frightened once every day and doing so will get you at least 20 candies. To scare an NPC, simply create a potion corresponding to his fear on the fear board, approach him with the potion in hand, and drink it in front of him. A list of each fear potion is provided below
Fear of Discotheques – Disco Potion (Disco Ball)
Zombie Fear – Zombie Potion (Brain)
Fear of bees – honey melt potions (chili + honey)
Fear of Noodles – Potion of Noodles (Pool Noodles)
Fear of Farts – Squirt Potion (Rotten Sandwich)
Fear of Spiders – Spider Pet Potion (Spider + Pet Token)
Fear of Fish – Potion of Flounder (Fish)
Alien Fear – Alien Parasite Potion
Fear of Witches – Broom Potion (Witches Brew + Fairy)
Fear of Explosions – Explosive Potions (Dynamite)
Fear of Warts – Wart Potion (Spider)