Many of Dead Island 2's quests direct you to a certain place and ask you to find someone or something while there. Some are obvious, but others in the game require you to use clues to piece together the vital information and eventually discover your target. So, if you're stuck on how to complete Message in a Bottle in Dead Island 2, don't worry, we've got you covered.
Dead Island 2 Message in a Bottle quest walkthrough
The Dead Island 2 Message in a Bottle quest may be obtained from the Santa Monica beach. Before you can initiate this quest you need to complete the Main Quest: Boardwalking Dead. The quest is divided into three phases, each of which requires you to locate a journal entry from the enraged critic that eventually leads to his final destination.
Use the message in a bottle to find the arrogant food critic
Begin by going to the Bucket O' Fish restaurant on the pier (shown on the map below) and entering. Avoid the traps as much as possible.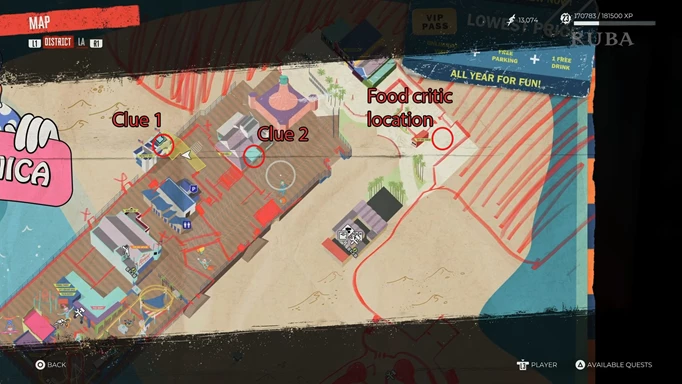 Scrape the bottom of the Bucket O' Fish  for the arrogant critic
Make your way to the very rear of the building, near the valve, and you'll find the Review: Bucket O' Fish: One Star notebook on top of a box. Opening the journal will reveal his next location, which will be back on the dock.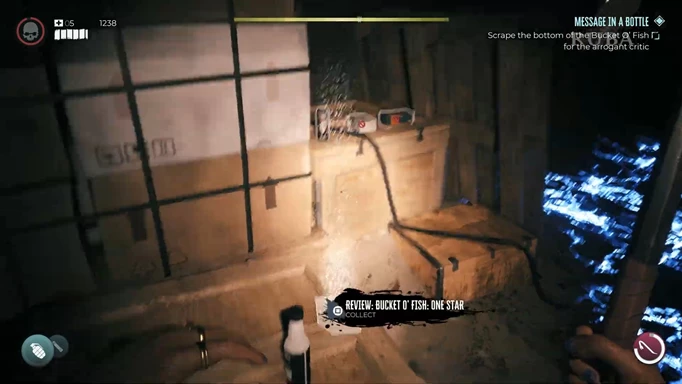 Scour the Pier Grill for any sign of the arrogant food critic
Explore the area next to the wrecked helicopter near the Pier Grill (shown on the map above). The Review: Pier Grill: Two Stars diary can be found on a table in the corner, which points to the critic's ultimate destination.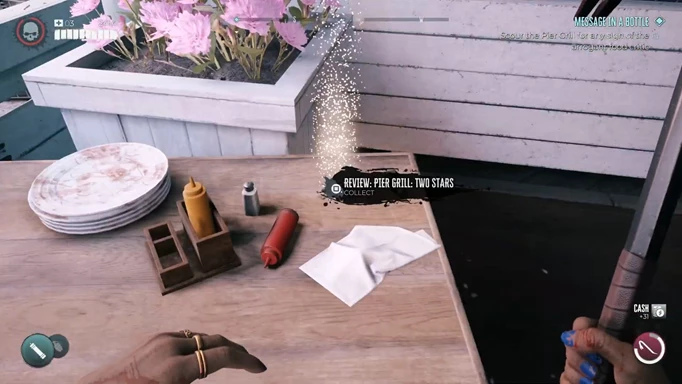 Find the arrogant food critic from his Pier Grill review
Read the second diary in your inventory for information about the critic's future location. It will direct you to the hot dog shack in the upper right corner of the map, so go there.
Find the arrogant food critic
There are a tonne of zombies in the car park next to the shack, including the A.R. Oliver zombie you'll need to kill for this task. Once A.R. Oliver is killed, you can pick up the Revew; Hotdg Shak: Twelvteen Strs journal, which will complete the mission.
When you complete the Dead Island 2 Message in a Bottle quest, you will receive 3000 XP as well as whatever stuff you can find from the zombies in the parking lot.